"I want to know if you have touched the centre of your own sorrow
if you have been opened by life's betrayals…"
"The Invitation" by Oriah Mountain Dreamer
Prior to Covid, Mansi and I were planning to create an installation that would bring together our previous works using projection, installations and light to intersect the space we inhabited during our studies.   We planned to project onto the windows of the dance studio that could be seen from outside, and we intended that it would interact with our installation on the second floor balcony. It would reflect and refract natural light into the hallways of the second floor exploring the materiality and immateriality of movement through architectural structures.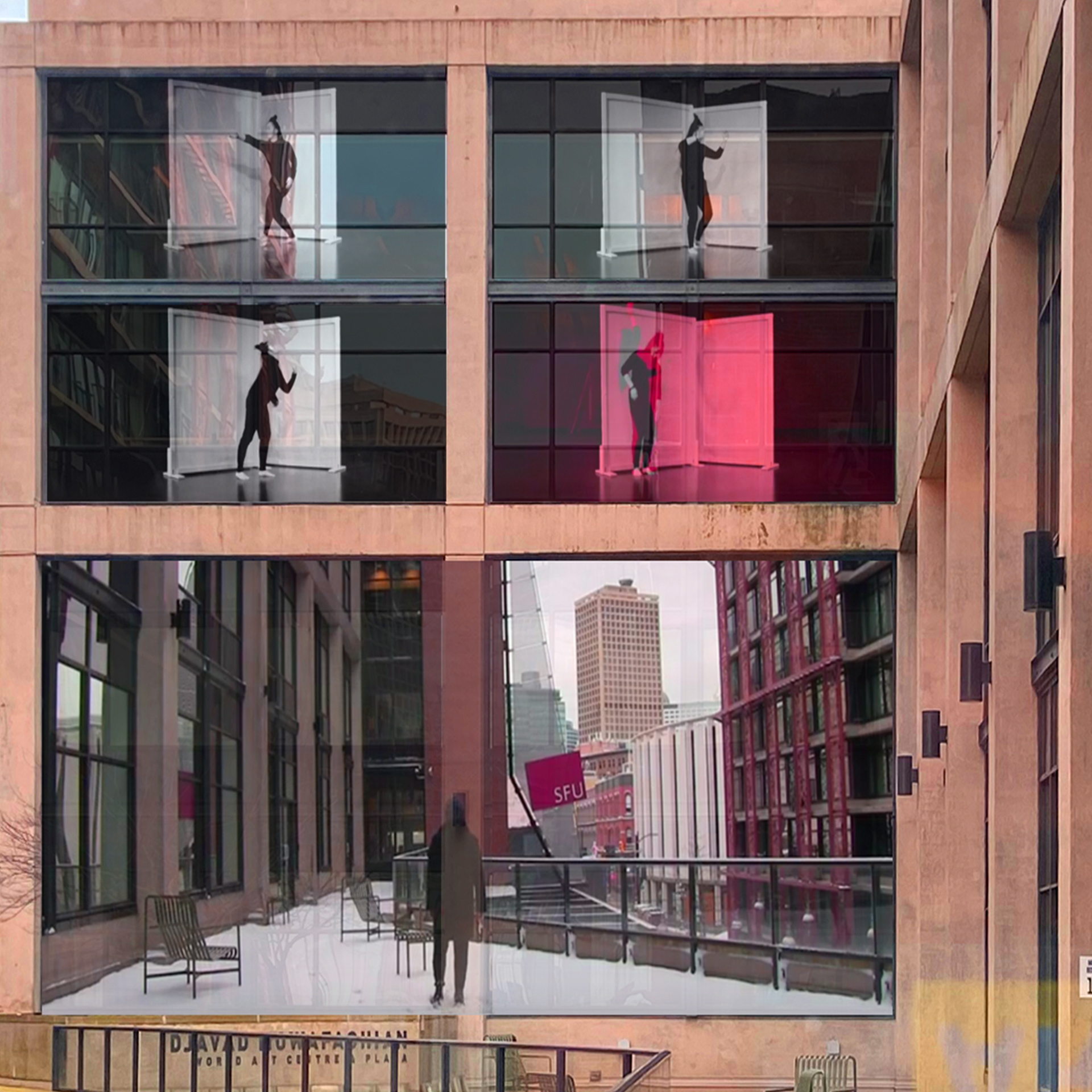 However, just before Covid, our journey for our graduate project ended and we embarked on our own paths.  We still worked on one final 3D render for an artist residency with Union House. We were grateful to have our work shown on the site for the June 2019 residency. To see "When Breath Takes Flight" click
here
.
Another wild card: we still had to do a project for our cohorts Spring Show in August.  Having spent my first two terms working on installations and researching body and architecture, I honestly had no clue which step to take next. One grounding conversation with Uche (member of the Masala House) reminded me of who I was creating for: it was just the reminder I needed to return to the home of trust and little did I know where this next wild card would lead. 
During the lockdown in Hong Kong, I reached out to my family of dancers to see if there was anything I could do to support them during the pandemic.  They wanted to move, so we started up our 'F'Amity Sessions' online (movement classes). During this time, I was working on waves (not having studio space allowed me to move my training practice outdoors) so I started to share my new practice and they just soaked it all in exquisitely.  Originally, I only prepared for 3 weeks of lessons, but as they grew more curious we just kept going. The practice and conversations naturally grew deeper and I started sharing my research around intuitive sensorial perception and embodied seeing.   I still wasn't sure what my spring show would be but I trusted it'd come at the right time.  In the meantime, though, it was great to be able to share the work.  
"Life cannot be against you, for you are life itself. Life can only seem to go against the ego's projections, which are rarely the truth."
~ Mooji
I know I've written about stepping into the unknown a lot, and if there's anything that COVID has highlighted, it's that nothing is ever certain and our reality is ever shifting.  Some can view this dance with faith as ignorance and others as trust. Either way, life happens, and we are always where we need to be. There is a difference of walking with mind and walking with heart.  The mind structurally creates plans from A-Z when really the outcome is an infinite equation (literally like 3x+3=3x+3).  Tapping into our intuitive sensorial perception and leading from the heart gives us space to not only be where we need to be but to be present with where we are at.  It may not sound like much of a difference, but it has changed the way I move through moments of anxiety.  I read once that depression occurs when the mind is in the state of the past, and anxiety is when the mind is in the state of the future, so to have the ability to sensorially be aware of the here and now is a reminder that I'm always present – we don't have to think about being present. We already are.  When my eyes are distracted, I come back to the body's way of seeing to remind me that all I am and ever will be is this moment, this single breath. 
Side Note Story: Video Editing to Interactive Arts and Technology
School moved online, and I was able to audit a few courses.  I originally wanted to take a video editing course.  Charlie (Coops), had just finished TAing a course at SIAT and recommended this one class for video editing.  I didn't find any video editing in the course outline, but I signed up anyways. Sure enough it had nothing to do with video editing, but everything to do with an intro to Interactive Arts and Technology—a  wild card in the best of ways.  The language in the class was far from anything I've ever learned so it was a lot of googling for the first month.  This course watered a seed in the work I'm doing now and was an 'accidental' blessing in more ways than one (I know nothing really happens by accident).  Not only did it lead me to the research of body and technology (telepresence), but also the next unfolding step to my work as an experiential artist.  I also met Steven Kobza in this class, our programmer and technical support for OEWA.  
**Coming Up Next: What came of the 'F'Amity Sessions'